The Koch brothers are infamous for trying to buy this election and past elections at all levels, including state and county elections where they backed puppets to further their agenda.
What is the Koch agenda?
Nothing much…the brothers just want to run the country and stamp out any vestiges of democracy and equality in America.
A big goal. Two billionaires with a common vision. Power.
If these are your kind of guys then make sure to vote for "Mutt" Romney; a puppet for the ages.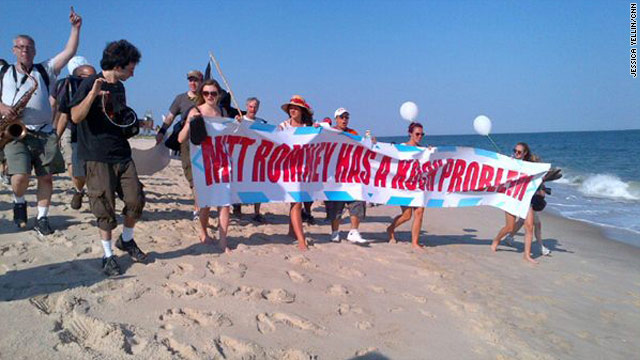 "Some 200 protesters, according to local law enforcement officials, gathered Sunday near the residence of billionaire David Koch, who held a private fund-raiser attended by Mitt Romney at his home in Southampton.
The protesters, taking issue with the amount of money Koch and his brother Charles are likely to spend in the race, carried signs and beat drums as they marched along the water near Koch's residence and chanted, "Our elections aren't for sale," and "Whose beach? Our beach."
As they walked to the Koch residence, they passed the homes of fashion designer Calvin Klein and financier Leon Black. One group carried a large sign that read, "Romney has a Koch problem," while a plane flying overhead carried a banner with the same message.
David Koch, and his brother Charles are controversial figures in the Republican Party who support conservative and libertarian causes. Backers of the group Americans for Prosperity, the pair of
industrialists are expected to spend tens – if not hundreds – of millions on Republican causes this year.
The protesters said they represented groups including MoveOn.org, Occupy Wall Street, Occupy Long Island, Occupy Huntington and the Long Island Progressive Coalition.
Romney was in the area for three fund-raising events. Along a stop at the Koch home, Romney also appeared at a lunch hosted by business magnate Ron Perelman in East Hampton, as well as an event at former U.S. Ambassador Clifford Sobel's home on Meadow Lane in Southampton.
The Koch residence in Southampton was surrounded by a high level of security, including about two-dozen personnel stationed outside the residence along the beach.
The protesters were assembled in a "free speech area" several blocks down from the Koch property, according to New York state police captain David Candelaria. Law enforcement officials shut down a portion of the road for the demonstrators, some of whom bused in from New York City." (Source)